Last night was a tough one to take. I said beforehand that I expected nothing from the match but to lose it in the fashion we did was a bit gutting. Before I get into the game I just want to say a huge congratulations to REDaction who worked tirelessly to put together a card display for last night and it looked fantastic!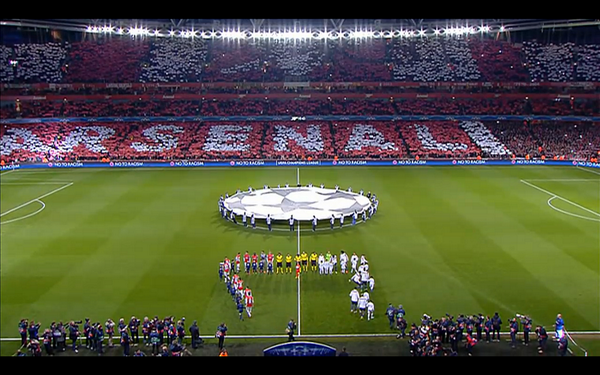 The first 30 minutes of the match I think we played the best I've seen all season. It's no exaggeration to say we played them off the pitch. The defence couldn't cope and he crowd could sense that we were on top. Yaya Sanogo was fantastically denied a goal by Neuer whose reactions were just top drawer. Sanogo played well and certainly looks to be a talent but he need refinement his touch was off at times and still looks a bit clumsy.
Our moment came not long after, Wilshere slid the ball through to Ozil in the box who did a Cruyff style turn and popped the ball over Boaten who subsequently brought him down. Penalty. Ozil stepped, or more staggered up to it and his feeble effort was saved by schoolboy friend Neuer in goal. That killed the energy of the crowd and Ozil deflated. We had a couple more efforts but the moment that totally killed the game was in the 38th minute when SZCZ made contact with that bald twat Robben who went down as if he'd been shot. SZCZ off and penalty Bayern. Although they didn't score, down to 10 men we were played off the park with ruthless efficiency.
At 1-0 down we had a chance in Munich, a slim one but a chance. The Koscielny went bombing forward in the 88th minute, didn't get back and Muller found space where he should have been to nod it home. 2-0. The tie is virtually over.
I hate the rule about "denying a goalscoring opportunity" cause that's restored with the penalty. It's a stupid and annoying rule that needs to be looked at but by the law SZCZ was correctly sent off last night. Down to 10 the game dies. If he had been taken out from behind by a defender then fine.
I feel sorry for Ozil at the moment. He's penalty was shit, but you could tell that he was desperate to do well. When you look at the figures he ran he's already shattered legs off, only Flamini covered more ground. There are two reasons I'm cutting him some slack. Firstly and it's obvious to see, he's absolutely shattered, aside from Carling Cup I think he's played 90 minutes in virtually every game this season. He needs a week or so off to properly recover and recharge. Secondly it's his first season in the toughest league in the world, we've seen so many players struggle to adapt in their first season and then click into gear for their second. Give him time, we all know how good he is.
Anyway, we have 2 must win fixtures now before the next torrid run starts on the 8th. So let's start by responding against Sunderland.