I originally planned to roll this and the West Ham preview into one long-ish blog but decided there was too much to say so it'll instead be two shorter ones in quick succession. So after 120 minutes of football and around 5 minutes of agonising penalties we made it to the FA Cup final. There are plenty of positives and negatives to take from the day. So we'll start with the negatives.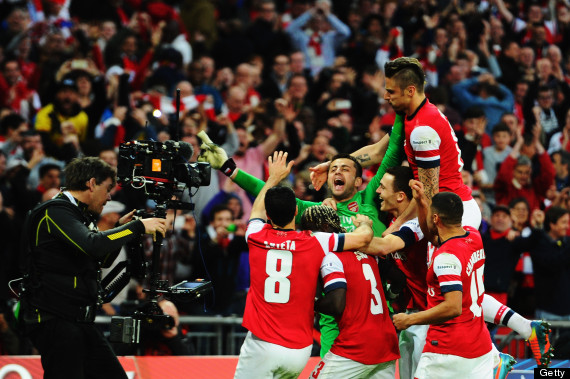 The game itself was one of the most torrid games of football I've ever seen. I said to my friend beforehand that both sides play open, attacking football so it should be a good game. How wrong I was. The game was lethargic, boring and there were few chances throughout the match. We were content to play sideways and backwards and pretty much any way but forwards. Wigan were content to hold and then try to counter. There was no drive to our game whatsoever, it was difficult to see where our breakthrough would come from.
We bizarrely started Yaya Sanogo who showed just why he hasn't opened his Arsenal account yet. To ask a man of 21 to lead the line for Arsenal in an FA Cup Semi-final personally is naive. When he missed the chance after going through one on one the fans were turning quickly inside the national stadium. Now this isn't me being critical about the young lad, his desire was first class, he chased absolutely everything even when it was clearly a lost cause but he's just too raw at the moment. If he's have scored that header that was fantastically saved by Scott Carson then it could have been a different story.
The first half drew to a dull, drawn out close and no matter how many £5 pints of watered down budweiser I could have drunk it wouldn't have improved my mood. The second half picked up much where the first left off. After 60 odd minutes Monreal went down under a challenge and Wigan broke through, Mertesacker slid in late and it was the clearest penalty you've ever seen. Gomez stepped up and hammered it home. At this point myself and everyone around me were fearing the worst. The guy infront of me quite rightly said now is when we need to get behind the team and the fans rallied.
Wenger took off Podolski to a chorus of boos mainly because it wasn't Sanogo being taken off and we reverted to a 4-4-2. Gibbs was brought on and made and instant impact, we looked a lot better with more pace and drive. We then hit the post and I thought that was our chance but the Wigan goal was living a charmed life. Moments later Gibbs thought he'd brought us level only to see his effort cleared off the line. From the resulting corner there was a sliced clearance that fell to Sanogo who controlled well and laid it off to the OX. He hit his shot into the ground and it was heading out of play when Per Mertesacker appeared to nod home cuing utter delirium in the Arsenal sections. I don't think I've ever celebrated a goal like that before in my life.
As the game rolled on we were in the ascendancy with the OX crashing a shot of the angle. But it was almost destined to head to penalties. Extra time came and went and then it was destined. I don't buy all this penalties are a lottery crap. They are a test of skill and most importantly a test of nerve. I was far from confident that we'd do what we needed too although our record in shoot outs recently is surprisingly good.
Wigan went first and Fabianski saved well. Arteta stepped up and with nerves of steel scored as he does so often from 12 yards. Collison stepped up and again Fabianksi saved well. Kim Kallstrom stepped up and I was confident knowing his record from dead-balls, I read somewhere that he's never missed a penalty but I can't confirm that. He power his side footed effort into the corner. Wigan then finally got off the mark and Giroud stepped up. Again sent Carson the wrong way and now there was real belief we'd do it. Wigan then scored again.
As I watched Santi Cazorla make the long walk down the pitch, my row in the heavens of Wembley locked arm in arm like the players on the pitch, I had a feeling he'd do it despite my nerves being shredded. The little Spaniard took a long run up that seemed to last a lifetime and then blasted his penalty straight down the middle, sparking more wild scenes inside Wembley.
I read afterwards that Roy Keane said it was ridiculous celebrating like for beating Wigan. Which a preposterous statement from a bitter man who still feels the shootout of 2005 cut deep and long may he hurt from it I say. It was the celebrations of a team going to the FA Cup final and nobody remembers how you got there if your name is on the trophy come the end of it.
So far from classic Arsenal but we got the job done. I just want to say that we need to enjoy the moment until we take on West Ham tomorrow otherwise what's the point. Also I'd like to say the support on Saturday was absolutely tremendous from our fans, we outnumbered the Wigan fans by something like 4 to 1 and we really made it count. Talking of the Wigan fans I'd like to say they were all fantastic people having met many throughout the day and shared a drink with a number of them, great fans and it was all in the spirit of the day, I wish them all the best for the rest of the season.
Right back tomorrow for what is gonna be a slog of a match.