If you recall I said that a win at Reading was absolutely essential and to win it convincingly would be a nice bonus. Well we did both. In a move that I think suggested willingness rather than intent we started Walcott upfront. We started well and all 3 upfront looked sharp. I've been fairly critical of the Ox this season as I think he's had a rough start but he looked very comfortable on Monday night. We went out and instantly looked dangerous, most of it coming through hat-trick scorer and easily MOTM, Santi Cazorla who showed what a truly class player he is. There was a slight wobble when we conceded 2 but the night was nicely capped off with a Walcott goal.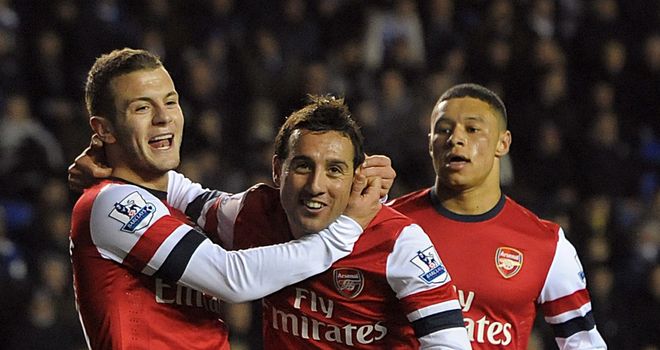 This weekend we travel to a ground where we've had, well very mixed success shall we say. Wigan are a team that always fight and are difficult to defend against, although they have been slack this season and sit in the bottom 3. Hopefully we can carry on with the momentum we built up against Reading and really kick on, there are no doubts this is a game where we should be winning but, there is no definitive in football.
I think we'll see a similar team, if not the same team from the other night. I think we'll start Walcott upfront again but if things start looking a bit lapse then we might bring Giroud on from the bench and shift the front 3 around. We have no new injury worries so there is no reason to change things unless Wenger has some idea's tactically as to how he wants to play this one.
Wigan are struggling with injuries this season and it shows by their recent line ups. It looks like Di Santo should return for them though with Kone out on the wing. He's a dangerous player Kone and Gibbs will need to be sharp to deal with him and may need some help from Podolski and others ahead of him. We know Di Santo can score if given the chance so we can't afford to give them many. Our port of call though I think will be down our left with Emerson Boyce still in at right back due to injuries. We creates a raft of chances down the left against Reading and I think the speed and creativity of Gibbs and Podolski may be too much for the 33 year old to deal with.
I think Stam and Jones will have more defensive duties than they would like against us but with the speed at which we move the ball across the box I think we'll drag Wigan out of shape and that will be our main threat.
In other exciting news, we have drawn Bayern Munich in the next round of the Champions League. I'm not going to be drawn into a long debate about it but this is the sort of match we should be looking forward too, this is what the Champions League is all about, big matches against big teams. So for the weekend COYG!
Prediction: Wigan Athletic 1-3 Arsenal